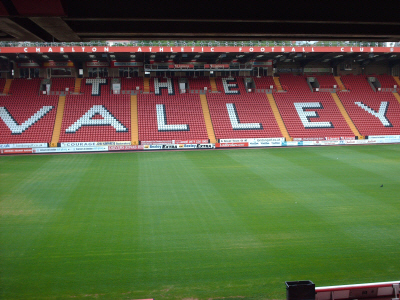 Christ! Back to back wins with another clean sheet! We're turning into AC Milan!

Now I'll be honest. I like Leicester. Decent club with a decent fan base, barring one or two pricks that I'll discuss later, and a decent history. That little Irish bloke with the glasses was good. Made a name for himself in fact with the creation of a hard working side that was reasonable to watch. Won the League Cup on two separate occasions, which you can only admire even if the League Cup is somewhat two bob. Still he was my choice for England manager not that he ever had a snowballs chance of getting the appointment on account of him being too outspoken.
But with martin O'Neill's departure came the arrival of football's answer to Richard Ramirez. Now whilst Ramirez raped his victims then robbed them of cash, Taylor decided to do the robbing before he raped them. Peter Taylor cost Leicester Football Club a frankly staggering £23 million and their place in the Premiership. Perhaps the writing was on the wall when O'Neill left. But what Taylor did to Leicester was staggering. £5 million for Ade Akinbiyi was bad business. £1.6 million for Dennis Wise was fucking insane considering he was pushing 35 and an established cunt that was inclined to decimate whatever harmony existed at the club.
So history lesson aside, Leicester are a decent enough side that have been cruelly treated by fate really. Let's hope for their sake that Mandaric doesn't prove to be an addition to the list of people that have done the club over. Sacking Allen was idiotic. I'm not convinced that hiring Megson was much better to be honest.

The match between a Charlton side high on confidence and a Leicester side that have had an uneven start to the season was one sided. Leicester were shit pure and simple. Little or no incisiveness, lacklustre defence and worst of all, Carl Cort who looks a shadow of the player he did at the Dons. Megson needs more than a nice suit to convince people he has the managerial skill to get Leicester anywhere besides mid table. That was a damn nice suit though. Wonder if he's related to Steve McClaren? Similar style in mens fashions and both capable of standing for long periods of time on the touchline doing nothing besides the obligatory push up gesture every five minutes. Christ I could do that blindfolded. Literally. So basically we were very decent whilst Leicester were very shit. They have one or two talented pro's namely Ian Hume, who looked threatening on occasion, but the rest were lacklustre. Charlton were knocking it around the pitch well, Reid was good, Mills was outstanding even though I still refuse to cheer the bloke for the moment, and Iwelumo and Varney are starting to look like genuine class in this division. Still reckon neither of them are 20+ a season strikers but both are nonetheless more than good enough so long as the midfield gets in on the goals.
No complaints from me. Though the sight of Leicester fans getting hauled out of the ground by the scruff of their neck was amusing. Seemingly a bunch of them either decided to have a punch up between themselves in the corner by the screen or were anxious to be decimated by the Metropolitan Police. Newsflash. The day of the firm is over you fucking morons. Guess the message hasn't sunk in yet though.
I'm sure PC Woods will be willing to educate them.